DIK-3343 pF Meter ( Applicable to both Head Pressure & Vacuum )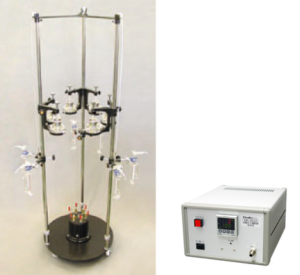 Sample chamber & Automatic pressure regulator.
Main Characteristic
This pF meter sets the pF value of the soil from pF0.5 to pF2.6 by the vacuum method.
It can set the pF value minutely by means of falling head pressure, setting 6 pieces of sampling tubes.
The amount of the supply and drain water is measured with the burette.
Specification
Meter main unit
Stand
1 set
Burette
(20ml, Marriot type, up & down sliding system)
6 pcs
Sample chamber
(100ml, made of transparent acrylic, up & down sliding system)
6 pcs
Filter (for 50kPa, porous ceramic plate)
6 pcs
Automatic pressure controller (DIK-9232)
1unit
Measuring range
Water head type, suction method : Water column
-0.31 to -14.71kPa (pF 0.5 to 2.1)
Vacuum type, suction method : -9.807 to -49.15kPa
(pF 2.0 to 2.7)
Power source
AC100V 50/60Hz 20VA
Weight
Approx. 55kg
Accessories
tube (two sizes for six pieces of each)
Option
Stainless sampling tube 100ml