DIK-4050 Falling-Head Permeameter, 5 Fold Type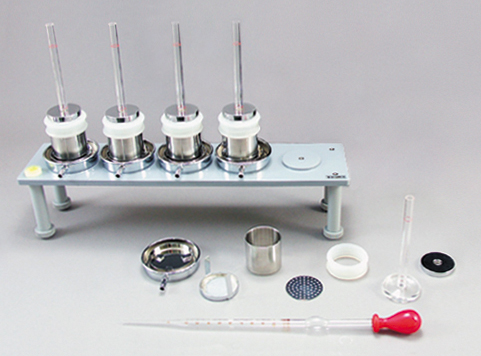 Main Characteristic
Falling head premeameter, 5fold type suits for measuring the soil of the small water permea bility.
(approx.10-3 – 10-6cm/s).

5 samples can be measured at the same time, using 100ml sampling tubes.
Specification
Level stand 1 unit
With level adjuster
Dimensions
W500 x D120 x H100mm
Material
Vinyl chloride
Weight
8 kg
Falling head measuring unit 5 sets
Water dish, Net dish, Rubber ring, Net plate,
Weight, Graduated pipe, Tube 5 pcs.
Pipette 10ml 1 pce.
Sampling tube 6 pcs.
Case 1 pce.
Permeameter, 4 Fold Type –> Click!