DIK-4056 Digital Permeameter
NEW!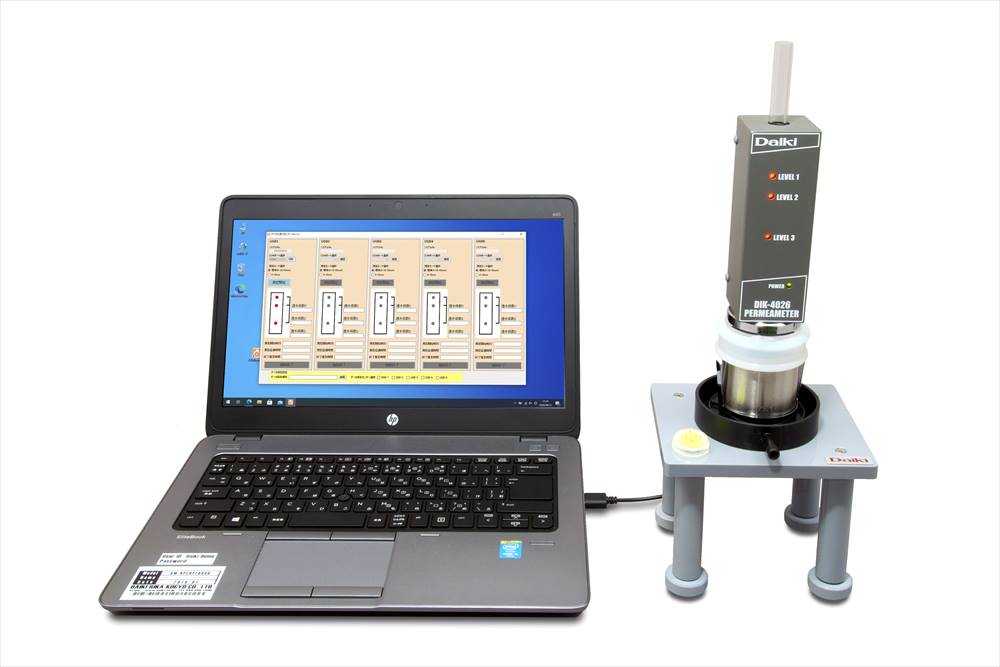 Main Features:
● Measures soil permeability using the falling head method.

● Capable of measuring permeability in a wide range of soils.

● Calculates saturated permeability automatically and saves data to a CSV file for easy access.

● Up to five devices can be used simultaneously with our dedicated software.

● Status of all devices can be understood at a glance.

● Display of measurement finish time.


※Dedicated software is only available for windows computers.
構 成
DIK-1801
Stainless 100ml Case 1 pc
DIK-4001-13
Rubber ring 1 pc
DIK-4001-15
Mesh dish with handle 1 pc
DIK-4055-17
Vile with visual water level marks 1 pc
DIK-4001-18
Weight 1 pc
DIK-4001-19
Mesh plate 1 pc
DIK-4001-21
10ml pipette (with spoit)
DIK-4001-22
Tubing(O.D.Φ10×I.D.Φ7×L150mm)
DIK-4051-17
Water Dish
DIK-4055-20
Level plain (for single device)
DIK-4026
Digital Permeameter
Options
DIK-4026-12
Digital Permeameter Dedicated Software
DIK-3521-51
Lid to hold sample
1201-19
Aluminum Case(W365×D225×H250mm)
Specifications
Weight
App. 300g
Voltage
AC100V
Measurement Time
1 sec – 1,000 hours
DIK-4056

DIK-4026 

1. Please select your language for YouTube subtitles.
2. You can translate its subtitles in YouTube.