DIK-3210 i Tensiometer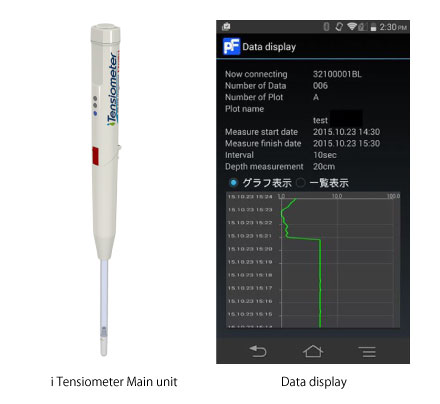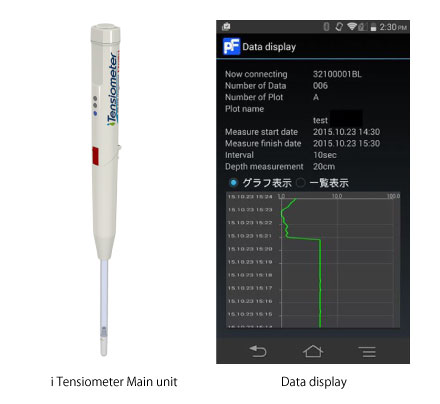 Main Characteristic
・Built-in data logger and battery, integrated style!
・With Wireless communication! Free from a complex wiring!
・Easily obtaining of measurement data and setting of measurement condition by display unit.
・By the touch panel operation, anyone easily can be operated.
< Attention>
* It can not be used only the main unit.
It requires a Data display.
"i Tensiometer" is a registered trademark of Daiki Rika Kogyo Co., Ltd.
Main Unit Specifications
Power source
C battery 2 pcs,
Dimension
φ60mm x 600mm (Except Porous cup)
Porous cup size
φ18mm x L80mm (Ceramic cup is H60mm)
Weight
Approx. 600g
Measurement pressure range
0 ~ -100kPa to be specified
sensitive part length
10 ~ 100cm by a 10cm unit
Memory capacity
10,000 measurements
Display part
Power source
Lithium-ion battery (Rechargeable battery)
Dimension
138mm x 67mm x 10.9mm
Weight
Approx. 260g
Communication method
Wireless
File format
CSV
Wireless communication module is conformed under the following countries.
Canada : "Contains Transmitter module IC : 4389B-EYSFCN" & "Contains IC : 4389B-EYSFCN"
USA(FCC) : "Contains Transmitter Module FCC ID:RYYEYSFCN" & "Contains FCC ID:RYYEYSFCN"
Video1

1. Please select your language for YouTube subtitles.
2. You can translate its subtitles in YouTube.

Video2