DIK-5532 i penetrometer (Digital Cone Penetrometer)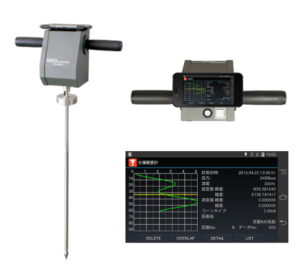 Main Characteristic
・Digital Cone Penetrometer measures a soil compaction in situ easily.
・With Bluetooth communication!
Free from a complex wiring.
・Built-in GPS Display can measure and save data of maximum 1000 measurements.
・Built-in data logger and battery, integrated style!
・Easily obtaining of measurement data and setting of measurement condition by Data display.
・Printing with a wireless printer.
・This product can be measured at a constant speed by displaying an indication of penetration rate.
*It can not be used in only the Main unit.
 It requires a Data display.
Specifications
Main unit
Power source
size C battery 2 pieces
Dimension
345mm x 212mm x 144mm (including handle)
(Except spindle, Data display, cone)
Weight
Approx. 4kg
Measurement range
Cone base area(2cm²) x Measurement Depth(cm) : Measurement range(kPa)

cone 2cm² x 30cm : 179 ~ 4903
cone 2cm² x 60cm : 191 ~ 4903
cone 2cm² x 90cm : 204 ~ 4903
Memory capacity
1,000 measurements
Accessories
cone 2cm² 2pcs., spindle 30cm 1pc., spindle 60cm 1pc.
Data display
Power source
Lithium-ion battery (Rechargeable battery)
Dimension
Approx. 144mm x 72mm x 7.8mm
Weight
Approx. 141g
Communication method
Bluetooth
File format
CSV
Option
DIK-5532-51
Mobile printer (Only for DIK-5532)
DIK-5532-52
Replace paper for Mobile printer, (DIK-5532-51)
Bluetooth module is conformed under the following countries.
Canada : "Contains Transmitter module IC : 4389B-EYSFCN" & "Contains IC : 4389B-EYSFCN"
USA(FCC) : "Contains Transmitter Module FCC ID:RYYEYSFCN" & "Contains FCC ID:RYYEYSFCN"